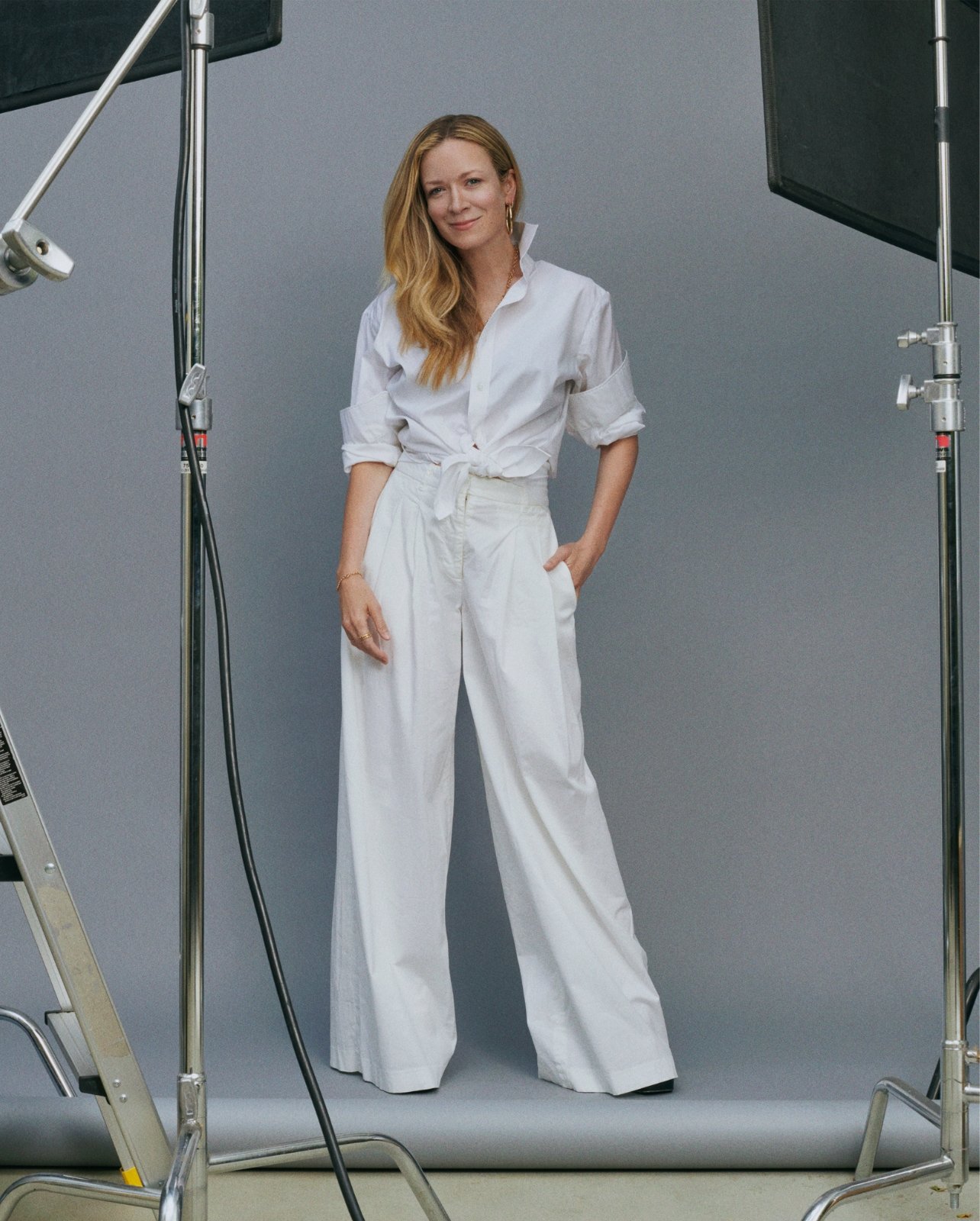 Erin Walsh describes her go-to looks as "effortless, clean, and elevated."
Clients: Anne Hathaway, Alison Brie, Freida Pinto, Eva Mendes, Lana Condor, Adriana Lima, Beanie Feldstein, Juno Temple, Ashley Park, Lucy Hale.
Signature Style: "For day-to-day, I gravitate towards pieces in a lighter, neutral palette, because I find it helps me stay focused and calm. If I do pattern, it's usually some kind of stripe. Having grown up in Palm Beach, there's this haute grandmother on a yacht who likes to come out! I am into 1970s-classic references mixed with minimal Scandinavian."
Her Uniform: "My go-to pieces are effortless, clean, elevated. I like structure: a high waist, a crisp shoulder, a wide-leg trouser, tailored shorts. I love an oversized blouse and a shoulder pad. Always a mix of masculine and feminine. Anything that checks those boxes and ultimately helps me feel more beautiful and more powerful. And I can't think when I'm not in some kind of heeled shoe—now it's platform or chunky-heel options. I tend to divide my day into chapters with what I'm wearing. In the evening, before dinner, I change into a house dress or lounge suit situation."
On Styling: "Ultimately, my job is to make each person look and feel like the best version of themself. That's what makes a star have a moment, because they're embodying all that they want to be, and the clothes help with that. I know what shapes work better on certain bodies. You have to map out the body proportionally and what combinations work best on that figure."
Style Advice: "Map out your body, what you love, and what you want to highlight. Certain designers work better for certain body types, period. My other go-to is tonal dressing, whether you're packing or on any morning. And it doesn't have to be neutrals. A helpful thing to do is to think about how certain colors make you feel. It's amazing how colors affect your moods, so it's something to consider when you get dressed."
On her Radar: "We've been seeing a lot of saturated color on my clients lately. People are feeling a need for that kind of joy right now. I feel like now is the time to bring joyful colors, textures and shapes to the forefront. I love how exaggerated proportions are getting: giant heels, giant accessories, oversized blazers. I find, on most body types, having something that's an exaggerated size as one element of your silhouette is very flattering and evokes a certain confidence that we all want to harness."
Clients: Kristen Stewart, Constance Wu, Matthew McConaughey, Allison Janney, Sarah Michelle Prinze, Brittany O'Grady, Sam Corlett.
On Uniforms: "It's a specific style or a set of clothes that you consistently wear and feel authentically yourself in."
Signature Style: "I'm very classic, basic, easy breezy all-American. I don't want to be defined by specific items. I want clients to come in and see that I have a range. While I don't dress punk rock or preppy, I have the capacity to style you in it. With the nature of the job, I am running around all day grabbing garment bags, so my look serves the purpose. You'll always see me in slightly flared jeans with either a white T-shirt or a white button-up and sometimes a blazer. I'm very into Celine and Chanel, and I just got a great pair of Hudson Jeans. I'm usually wearing Converse Jack Purcells or comfy, cruelty-free Freedom Moses sandals, plus a ton of yellow gold jewelry and Ray-Ban aviators. My favorite bag at the moment is a tan canvas Chanel tote that looks great with everything."
Travel Go-to: "Blazers and white shirts always come with me. A crisp, white button-up can dress a look up for dinner or you can wear it as a beach cover-all. Then a fitted classic black blazer is the perfect layering piece over a T-shirt or a dress, when you get chilly at night. These are consistent pieces that every man and woman should have in their wardrobe."
Style Advice: "When you find the pieces and brands that fit your body and your lifestyle, and that you enjoy wearing tremendously, I always advise to buy them in multiples. Lean into it, whether it's a color or a silhouette. I literally have a dozen white t-shirts and a plethora of jeans in the shape that I love. Make it part of your capsule collection and definitely refer to it as much as possible. It saves time, stress and money. I'm a big fan of loading the base of your wardrobe with classic staples in neutrals (black, navy, tan and white). Then you can have fun with statement pieces and bold patterns. But don't break the bank on trends. They go in, they go out, they come back every 20 years."
On Her Radar: "As a brand ambassador for Chanel, Kristen always loves a good tweed jacket. Jumpsuits and suits tend to be the two things clients are asking for the most recently. Right now, I'm into yummy, cozy, bear-like faux fur robe coats. I think the ease and comfort of rib knits and pajama dressing will continue. The '80s is prominent—we saw a lot of black sequins on the runway and fun, bold colors."
On Sustainability: "I buy in multiples and will wear what I have until its death. Then it will make it into a DIY project with my kid, cleaning supplies, even pig bedding!"
Clients: Keanu Reeves, Jason Momoa, Taika Waititi, Regé-Jean Page, Christian Bale, Simu Liu, Robert Downey Jr., Jamie Dornan, Alan Kim, Simon Rex, Kumail Nanjiani, Anthony Mackie.
On Uniforms: "A uniform is one of the most amazing, genius, time-saving devices in the world. Coming up with a formulaic way to dress is such an incredible help to cut down on time and stress. Create a uniform to simplify your life, so that you can spend time doing things you want to do, instead of fighting with your closet! When you create your signature style, people get to know you, rather than what you are wearing."
Signature Style: "The staple of my uniform for some time was a pair of amazing jeans that I got from Susie Crippen. Now they're falling apart, so I've replaced them with Khaite jeans in a skinny or cropped boot cut. I pair them with some sort of lacy, romantic folk top from Chloé, Isabel Marant, Nili Lotan or vintage Chanel. The fancy thing I do for evening is a three-quarter length coat that helps cover up whatever I'm wearing when I'm coming from work. On weekends, I'm pretty much exclusively in Nili Lotan's East Hampton flat-front trousers with one of her cotton shirts. They're made so incredibly well that you can just wear the crap out of them."
Key Accessories: "If I'm feeling relaxed, I wear some sort of limited-edition Birkenstock; otherwise, it's a pointy-toe Valentino flat or ballet flat. My go-to jewelry is Hoorsenbuhs and Cartier. For evening, I bring a beautiful clutch, because it changes out the way I'm dressed really quickly. My husband bought me a beautiful Hermes Medor clutch years ago. I also have a skinny, black Valentino portfolio envelope that's smart and easy."
Style Advise: "If I go into a store and really like something, I buy a bunch of it in different colors. It should not be a big deal to wear the same thing. I mean, they're not going to make that shoe again!"
Color Coding: "I pride myself on being able to find the perfect things that look right on somebody. I want to find their lane—whether it's a black suit or a coral suit, it has to match who they are. The one thing I'm doing is finally embracing a bit of color. I was very boring for years; everything was black and white or black and gray. I'm really enjoying pink and blue. A dirty pink is always such a great color, as opposed to wearing white. It's great that men are finally starting to embrace color and have a good time with it."
On Her Radar: "A lot of people have forgotten about the suit, and I feel like it's such a forgiving piece of clothing. I have really been enjoying the oversized suit, the slightly-oversized jacket and wearing things that are a little bit loose. For guys, I'm loving a plaid suit for fall, to go professorial. Officine Générale is doing such fun, genderless, unstudied clothing and suits. So is Todd Snyder. You don't have to do the whole outfit. Wear a suit with a cool pair of sneakers. Throw on a turtleneck or a T-shirt so you don't feel restricted with a button-down. It's a great, easy, you-don't-have-to think-about-it look."